Cambridge Papworth 'plastic heart' man gets donor organ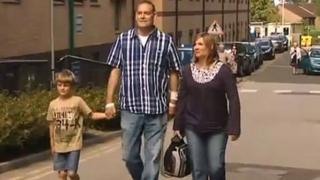 The man thought to be the first UK patient to receive an entirely artificial heart has had it replaced with a donor heart.
Surgeons at Papworth Hospital in Cambridgeshire replaced Matthew Green's plastic implant with the donated organ earlier this month.
A spokeswoman confirmed Mr Green is still recovering from his operation.
Mr Green, 42, was dying of heart failure when he received the artificial heart two years ago at the hospital.
Speaking in 2011, consultant cardiothoracic surgeon Mr Steven Tsui said without the device Mr Green might not survive the wait for a heart transplant operation.
He added that for the first time a patient was walking the streets of Britain without a human heart.
The plastic heart was powered by a portable driver in a backpack.
About 900 similar operations have been carried out around the world.
Mr Green, from London, had been suffering from Arrhythmogenic Right Ventricular Cardiomyopathy (ARVC), a heart muscle disease that results in arrhythmia, heart failure and occasionally sudden death.
Speaking after receiving his artificial heart he said it "revolutionised" his life.
Papworth Hospital carried out the UK's first heart transplant in 1979 and since then has performed more than 1,200 heart transplant operations.