Hinchingbrooke Hospital tells charity stall to leave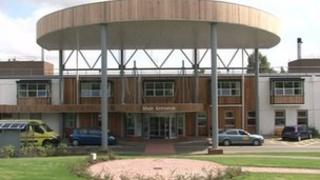 Volunteers who have raised £1m for a Cambridgeshire hospital over 30 years have been told their charity stall no longer "fits in" with the building.
Staff at the Hinchingbrooke Hospital stall said they were promised a new unit as part of a refurbishment but have now been told they are not wanted.
"Our thoughts are that we don't fit in with the expensive retail outlets being introduced," one said.
The NHS hospital said it was "seeking more creative means of fundraising".
A spokesman for the hospital in Huntingdon said changes to its entrance area were being made to "create a more efficient operational infrastructure".
"The decision not to reopen our charity stall is not due to space issues, but linked to... improving patient experience".
He added: "We greatly value our volunteers and the important work that they do to help our hospital."
However, Brenda Stevens, 75, who has worked for the charity for about 10 years, said volunteers did not feel "valued".
"We've made a lot of money for the hospital with that stall," she said.
"During 2011 we reached £1m and we have a substantial amount in the bank at the moment."
Hinchingbrooke's own website praises their efforts, saying: "Our charity stall volunteer fundraisers... work incredibly hard to raise funds for the hospital... [which] have helped us to purchase medical equipment and other items."
'Very upset'
The stall was closed in June while the entrance concourse was being redesigned.
During that time volunteers had several meetings with board members and architects to discuss plans for the charity's new unit, they said.
"We were looking forward to a nice new shop and were told work would start next week - and then they dropped the bombshell on Wednesday," Mrs Stevens said.
Barbara Darling, 70, who has volunteered for eight years, said: "While we've been closed we continued taking in donations, and lots of people have been knitting things ready for our grand reopening.
"We've got two rooms full of stuff. What are we going to do with that?
"We are upset and very cross at the way we've been treated," she added.
Mrs Darling said the hospital told the 18 volunteers they could still raise funds for the hospital - "just not with our stall".
Beryl Rham MBE, who started the charity stall from a trestle table 30 years ago, said: "The stall was very successful, but things change.
"The fundraising has got to be there, but it needs to be done in a different way. We now need another big project in which to focus on, and to get the public behind us."