Peterborough Mars Petcare sheds 45 posts in closure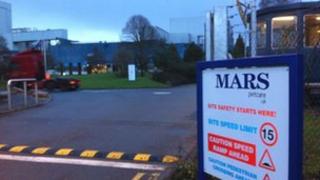 Forty-five jobs will be lost when a pet food company closes its doors for the final time in Peterborough later.
Mars Petcare, in Shrewsbury Avenue, Woodston, announced the proposed closure in March after a consultation.
The decision came after a "review of capacity requirements" at production sites across Europe.
Paul Anger, who has worked for the company for 20 years, described it as "another sad day for the manufacturing industry in Peterborough".
"Since we found out about the closure it's been a bit like working under a death-row sentence," he said.
"But Mars has been a good company to work for, and they have looked after us. It's hard to come to the end of the road."
Some 82 staff were affected by the original announcement, although 37 have since been redeployed to other sites.
Mr Anger said although staff were offered the chance to relocate to the firm's Melton Mowbray base in Leicestershire, it was not a viable option for him.
"I'm sure something else will come along, but I don't know what, as this has never happened to me before."
A Mars spokesman said the decision to close had been "difficult", but would "enable us to continue investing in industry-leading facilities and people at our other UK sites".
The Peterborough factory was opened in 1974 and produced dry pet food brands including Pedigree and Whiskas.