King's College Chapel, Cambridge, gives 'dream' tourist job to man, 91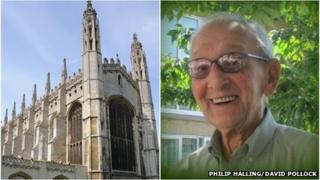 A 91-year-old afraid he was too old to get a job as a Cambridge University guide, was told: "If you can stand for three hours at a time, you can apply."
David Pollock, a retired print worker and chef, is now the oldest volunteer at King's College Chapel in the city, and describes it as his "dream job".
"When I turned up, so did the vice-dean, just to check I was living and breathing, I think," Mr Pollock said.
The college said: "We are very proud to have him. He's an excellent volunteer."
"I saw the advert a few weeks ago and thought it would be a nice job to have, but I was worried about my age," Mr Pollock said.
"When I called, they asked if I was able to stand up for a few hours, and then told me to come along."
'Happy band'
King's College abolished retirement age rules for all staff some years ago, Joanne Preston, personnel manager, said.
She said the college had "many staff over the age of 65" but admitted Mr Pollock, at 91, was the oldest volunteer the chapel had ever employed.
"We'd take someone on if they were 101, and could do the job," she said. "I'm working on that."
Mr Pollock said that before applying he did not know much about the 467-year-old building - one of the most recognisable university chapels in the country - but was given an information pack to study.
"The college said they were glad to have me as one of their happy band," he said.
"I'm not like a proper Blue Badge guide and I don't wave an umbrella or anything like that.
"I just talk to visitors when they ask me something, and have a bit of banter with them.
"If I don't know the answer, I always tell them when the college foundation stone was laid - that was 1441. No one ever asks that, and the information seems to keep them happy."
Mr Pollock said his latest job - he also volunteers for a hospital charity and sings in a choir entertaining people in care homes - was a long way from his youth, growing up in "the slums of Shoreditch" in London.
"I see some older people sitting back in their armchairs and just fading away," he said.
"I am not going to do that. I would like to go out with a bang - not a whimper."