A14 'erratic' drunk lorry driver jailed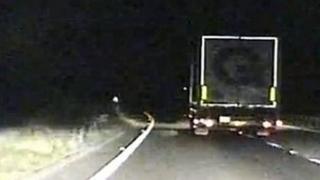 A lorry driver spotted swerving "erratically" on a dual carriageway has been jailed for drinking and driving.
Police trailed Kestutis Ruplaukis, 53, on the A14 between Northamptonshire and Cambridgeshire before pulling him over.
He was almost three times over the legal limit and initially resisted arrest, kicking out at an officer.
Ruplaukis admitted driving with excess alcohol and obstructing an officer. He was jailed for 20 weeks and banned from driving for 36 months.
PC John Mayor, of Cambridgeshire Police, filmed the vehicle being driven "appallingly" at about 30mph (50km/h) across the two 70mph (110km/h) carriageways on 1 September.
He drove behind the lorry to prevent other vehicles from overtaking, because he feared the driver was "going to kill somebody".
PC Mayor can be heard on film saying, "I've never seen driving quite as bad as this in my life".
When breathalysed, Ruplaukis, of no fixed address, had 97 micrograms of alcohol per 100 millilitres of breath. The legal limit is 35 micrograms.
Speaking after the conviction at Cambridge Magistrates' Court, PC Mayor said: "Being so out of control, especially in such a large vehicle, put other road users at serious risk of harm.
"Thankfully we were able to stop him before he was involved in a serious collision."