Bicton wind farm plans rejected for second time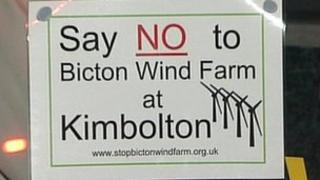 A decision to refuse planning for a wind farm in Cambridgeshire, for a second time, has been described as "a battle won" by campaigners.
Broadview Energy has twice submitted its plans to Huntingdonshire District Council for turbines at Bicton.
Members of Stop Bicton Wind Farm, who have been fighting the proposals since 2009, said Monday's unanimous council rejection was a victory.
A Broadview spokesman said they would be "likely" to appeal the decision.
The company's original plans to erect four 410ft-high (125m) wind turbines at Bicton were rejected by the council in January 2011.
'Disappointing decision'
An appeal against the decision was dismissed by the government's planning inspectorate in March 2012.
Broadview Energy subsequently revised its plans and resubmitted proposals for three turbines.
However, these have also been rejected.
Council planners decided the proposed turbines would "unacceptably harm" the area.
Tom Cosgrove, Broadview project manager, said he was "disappointed" with the decision.
"We are now considering our options for the site whilst we await the formal reasons for refusal from the council," he said.
"However, it is likely that we will appeal this decision."
Richard Murphy, chairman of Stop Bicton Wind Farm, said: "We have won an important battle, but we can't yet say we've won the war.
"Broadview has continuously disregarded local democracy and we expect them to appeal this decision, forcing a second public inquiry and incurring further costs to the taxpayer, the local council and local communities, to fight a proposal which should never have been put on the table in the first place."