Cambridgeshire Police test tablet computers to save time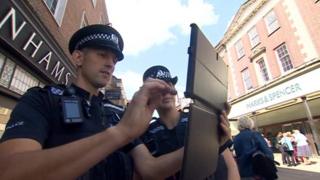 Cambridgeshire Police officers have begun using tablet computers on the beat in a trial that they hope will save up to £10m over four years.
Officers can log incidents immediately rather than have to fill in paperwork back at the police stations.
The force said it could save up to 10,000 working hours a week, but would mean the loss of office jobs.
Thirty-two officers are testing the tablets in Cambridge and Huntingdon and 100 more will get them this year.
Chief Constable Simon Parr said: "We're looking at using it intelligently and bring it in in a staged manner to make sure we learn how to use it.
"Technology is fantastic and it will allow us to do all sorts of things, but we've got to make it work in a way that suits us and the public."
Mr Parr said each officer would save up to 10 hours a week and there were some 1,000 frontline officers.
Sean Ryan, chairman of the Police Federation in Cambridgeshire, said: "Anything that assists officers in on the ground to access information is a good thing.
"We're trying to make efficiencies and if we can do that with technology rather than by cutting frontline staff, then that is also a good thing."
The chief constable said the force could make efficiency savings by getting rid of "scores" of office staff, but he could not reveal precise numbers yet.
Phil Goodham, a regional union organiser for Unison which represents non-uniformed staff, said: "I welcome the introduction of technology to make officers on the beat efficient, but what I regret is that a section of the force, which has already suffered cutbacks, could face even more cuts."
The tablets can also be used to bring up information such as details about vehicles.
The force estimated that tablets, or slates as the police are calling them, would save £7m-£10m over four years.