Cambridge University museum's giant whale skeleton dismantled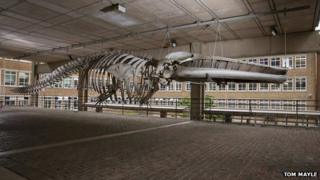 A huge whale skeleton is to be dismantled and put in storage for three years as part of a Cambridge University museum's refurbishment programme.
The 70ft (21m) finback whale has been owned by the Museum of Zoology since 1866, the year after it washed up dead in Pevensey Bay in Sussex.
It is expected to take two people up to six weeks to dismantle it.
The last time the whale was moved, to take pride of place above the entrance, it took 19 men just to carry the skull.
The finback (Balaeonoptera physalus) is the second largest species of whale, after the blue whale.
'Magnificent skeleton'
The museum's male finback is thought to have weighed about 80 tonnes when alive, the equivalent of about eight double decker buses.
The mammal was found in Pevensey Bay on 14 November, 1865, after a storm.
At the time, local newspaper the Hastings Chronicle reported thousands of people had made the journey to see the carcass.
It was sold at auction for £38 to 10 local fisherman who cut it up under the guidance of William Henry Flower, conservator of the Museum of the Royal College of Surgeons.
Mr Flower was keen the bones should be properly preserved.
He wrote to the Cambridge museum, saying: "It will make a magnificent skeleton."
The skeleton was briefly owned by a local man who put it on public display at Hastings cricket ground.
His advertising poster claimed: "No less than 68 children have stood in the mouth at one time."
The finback was purchased by the university in 1866, but it was a further 30 years before it was put on public display.
Conservator Nigel Larkin, who specialises in dismantling large zoological artefacts, has been tasked with taking the whale skeleton apart and putting it into storage.
It will be displayed again in June 2016 when the museum is expected to reopen after a three-year £3.67m refurbishment project.