Education reformer Henry Morris gets memorial plaque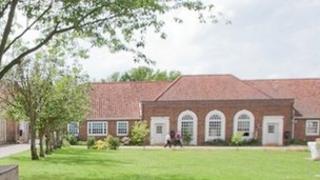 A plaque has been unveiled to commemorate the work of the founder of Cambridgeshire's village college schooling system.
Henry Morris was the county's education officer when he set up the first of 20 schools in Sawston, in 1930.
His concept was to provide "education from the cradle to the grave", making schools community hubs open to all.
The plaque has been placed on his old home in Silver Street, Cambridge, which is now part of Darwin College.
Morris developed his theory for community education in the 1920s, based on his belief that education should be a lifelong process.
He referred to it as "raising the school-leaving age to 90".
'Radical vision'
At the time, Cambridgeshire was one of the poorest counties in England and had no separate secondary schools.
Morris raised much of the money for the first colleges himself, through charitable trusts and contacts in the US.
Sean Lang, history lecturer at Anglia Ruskin University in Cambridge, said: "His original vision was that all the public services for a village would be on the same site as the college, so you'd have the library, information centres, and maybe even medical services.
"Education in Cambridgeshire would be very different without Morris I think.
"He was a revolutionary, he was a visionary.
"Morris was doing this in the 1920s, when the idea of compulsory education for children had only been around for about 50 years.
"The idea that education should be throughout life and there should be no school-leaving age was an absolutely radical vision and it wasn't one that anyone else in the country was having.
"Morris is well known in Cambridgeshire, and in the education world, but he really does deserve to be recognised more widely."