Cambridgeshire 'pirate island' plans to be resubmitted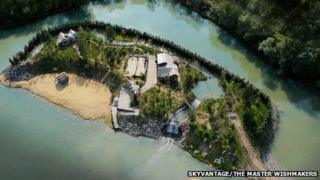 A family which erected pirate-style buildings on an island without planning permission, is to make another attempt to get council approval.
"Challis Island", near Landbeach in Cambridgeshire, was created for the Dickerson family on their own land.
A retrospective application to the council has already had to be amended once, and has now been withdrawn.
New plans are expected to include more trees for screening and details about access to the site.
Kettering-based company The Master Wishmakers created the island on a lake over a former quarry on land owned by the family.
'Generally supported'
However, no planning applications were submitted for the five buildings, which include a "mock" pirate tavern.
Retrospective plans submitted to South Cambridgeshire District Council in July and put out to public consultation had to be amended later.
This included details of how the island on which the buildings sit was created.
A council spokesman said nearby residents and parishes had "generally supported" the plans, and the council's view was that the development had "little impact on anyone nearby".
However, he said planning officers were keen to ensure this would remain the case.
The family's agent said they would be making a "clean application" to be followed by a further period of public consultation.