Wisbech migrant worker's pigsty shelter to be demolished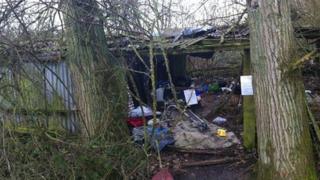 A pigsty on council land in Cambridgeshire is to be demolished after a Latvian couple were found using it for shelter.
Residents living near the site in Newbridge Lane, Wisbech, claimed up to six people had been using it.
But a spokesman for Fenland District Council said it was aware only of a Latvian couple who had been visited by housing officers and offered advice.
A demolition notice was posted and the couple had moved out, he said.
The council had received "sporadic reports of people living in the pigsty over the past year or so," the spokesman said.
Council officers had visited the pigsty on several occasions and had spoken to one man who was twice offered accommodation at a night shelter and given advice about returning to his own country.
"The man has moved out since we issued the eviction and demolition notice last week," the spokesman said.
"His partner managed to find a room and he has moved in with her, we understand."
One nearby resident said: "The pigsty was closed down quite a while ago because it wasn't actually fit for pigs to live in... but some of us would rather these people were living there than having to sleep out on the streets."
David Kennedy, from Peterborough's Stop the Traffik group which supports migrant workers in the east of England, said: "A lot of these people come here because they are told one thing and the reality is very different.
"A lot are tricked into coming here for work and then they are just dropped and left to their own devices.
"Many people I talk to have come from very rural environments where there are no jobs, no money and no opportunity," he added.
"They are just looking for some way to improve their lives."
He said help was available for people who found themselves homeless, but it was sometimes difficult for people with limited English language skills to access services.
The council said the demolition of the pigsty was "imminent".