Peterborough MP Stewart Jackson debt dispute settled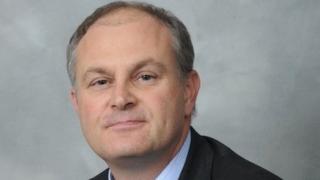 A legal dispute with an MP over £54,000 would not have arisen had he submitted accurate property valuations, the parliamentary watchdog has said.
The Independent Parliamentary Standards Authority said Stewart Jackson owed the money based on the increased value of his constituency home shown in figures provided by him.
The Peterborough MP said he submitted two valuations "in good faith".
An independent valuation has now confirmed nothing is owed.
The dispute arose after the authority banned the use of Commons expenses to pay mortgage interest in May 2010.
Transitional arrangements were put in place permitting MPs elected before 2010 to keep claiming the money up to last August - as long as they agreed to return any potential capital gain.
'Negative coverage'
In October 2012, the watchdog told Mr Jackson he owed £54,000 in capital gains after he "commissioned and provided two valuations from Royal Institute of Chartered Surveyors registered valuers... which showed the property had risen in value".
In a statement the watchdog said: "If Mr Jackson had submitted accurate valuations in the first instance, or produced suitable evidence in the months of discussion about this, we would not have had to escalate this issue, or seek legal support to try and conclude the matter."
Mr Jackson said they were "valuations submitted to it by me in good faith" and "it was clear from the outset that this case arose from an error on the part of the original surveyor and a genuine mistake".
"Proceedings in the High Court against me in May 2013... generated widespread and sometimes negative media coverage and some reputational damage to me," he said.
He added that "a 16-month ordeal" was now at an end and he was "not required to pay any monies back to the taxpayer".
An independently appointed surveyor has now valued his constituency home at his expense.
The authority said it was "happy to accept the surveyor's assessment" that there was no rise in the property's value between 2010 and 2012.