Cambridge Folk Festival and Corn Exchange to be run by charity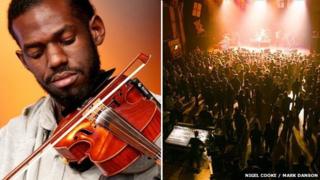 The running of the Cambridge Folk Festival and the city's Corn Exchange venue is to be handed to a charity.
Cambridge City Council's community services committee voted to create a charitable trust, in a move it claims will save nearly £1m over five years.
It also believes the trust will create long-term financial security and increase income.
The move will "impact" on 35 jobs, the authority said. Unions have yet to comment.
The folk festival - which is celebrating its 50th anniversary this summer - and gigs at the Corn Exchange attract thousands of music lovers to the city each year.
'Makes sense'
The city council said handing over their running to a charity would allow it to reduce subsidies by £500,000 over five years and would save it a further £690,000 in repair and maintenance costs.
Minus start-up costs, it is predicted the move will therefore save £990,000 in five years. The authority said the trust would also be eligible for tax savings and would be better placed to increase revenue, which is predicted to rise by £600,000 over the same period.
Sarah Brown, councillor for community wellbeing, denied the move was solely about saving money, saying: "We are driven to make savings across the council and we're looking to make savings from this as well, but the main reason we're doing this is because it makes a lot of sense to do it for administrative reasons and to secure the future of these events."
Other outdoor events could also be run by the trust, but those have yet to be specified.
The trust is likely to be operational by next March.