March church reopens four years after arson attack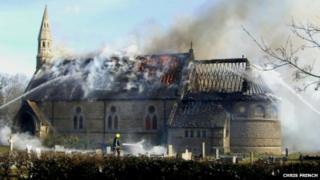 A church in Cambridgeshire which was destroyed in an arson attack four years ago has reopened after its insurers paid for a £2.2m renovation.
St Mary's Church, Westry, March, was declared structurally unsound after the blaze on 15 March 2010.
Anthony Chandler, the priest in charge, said his congregation felt "bereaved" when they viewed the blackened 19th Century Grade II listed church.
The building was rededicated and consecrated by the Bishop of Ely.
After the fire, only the four outside walls were left standing.
Some of the arches had to be completely rebuilt because they were destroyed by the high temperatures of the blaze.
Specialist masons and carpenters replaced the ornate roof and stonework, designed in 1873 by the church's architect Thomas Wyatt.
The space within the church has been reconfigured to include a new balcony, meeting room and storage facilities.
Reverend Chandler said: "It's four years since the fire, which is amazingly quick for what's been done."
He also praised "the wonderful generosity from local people and local organisations", which has helped the congregation almost reach its target of an extra £120,000, to modernise the building.
St Mary's now boasts under-floor heating and radiators.
Mr Chandler officially retired as the church's rector two years ago but stayed on as priest in charge to oversee the renovation.
He said: "It was just like a bereavement when it happened... but we're turning from the sadness of the past to the excitement to the future."