North Bank: Hannah Yates River Nene death 'accidental'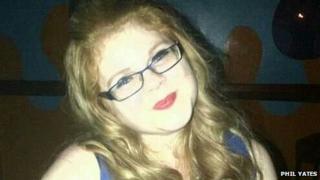 The death of a teenage girl whose car plunged into a Cambridgeshire river has been ruled "accidental" by a coroner.
Hannah Yates, 18, crashed into the River Nene at North Bank in Whittlesey on 3 November, during a spate of seven accidents on the same road in a month.
Sitting in Chatteris, William Morris said Miss Yates lost control while negotiating a bend.
Father Phil Yates said he was "disappointed" no calls for further safety measures were made.
Between November and December last year there were seven accidents and two deaths at North Bank, sparking barriers to be installed along a stretch of the road and a temporary speed limit of 40mph to be introduced.
The inquest heard that Miss Yates was on her way to see her boyfriend when an eyewitness saw her car crash through some trees and into the water.
A driver who stopped said he heard the girl shout for help and she was banging on the glass window.
But the car was eventually sucked under the water and the car lights disappeared, the court was told.
Mr Morris also recorded an open verdict into the death of Keith Pettitt, 50, of Corby, Northamptonshire, whose body was pulled out of the river on 2 December.
Phil Yates said he was "disappointed" Mr Morris did not call for more safety measures, but the family now had to "accept what's happened" and move on with their lives.
Simon Burgin of Cambridgeshire Police said after the inquest: "Unfortunately it comes down to cost and risk management as to where to put barriers. There's so many roads around the county where there is water running alongside, it's just not practical or cost-effective to suggest to actually do that."