Cambridgeshire Police defend hedge-trimming tweet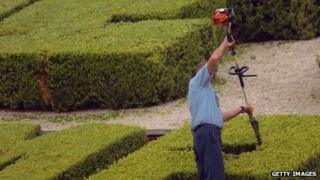 A tweet advising people to "neatly trim" their hedges has been defended by Cambridgeshire Police as "burglary crime prevention advice".
Residents reacted with disbelief after reading the tweet on the force's @CambsCops Twitter account on Friday.
It said: "Doing a bit of gardening this weekend? Make sure your hedges are neatly trimmed, max 1m at the front and 2m at the back."
One blogger said the tweet, which has been deleted, was "utterly bizarre".
After a number of comments on Twitter, including "is that on pain of arrest for not trimming the hedges within defined parameters?" and others suggesting the police should concentrate on fighting crime rather than the height of people's hedges, the message was removed.
A police spokesman said: "Keeping your hedges trimmed not only makes your property look well maintained but it also shows it is lived in, which could be a deterrent.
"We are reviewing the content of the tweets for future campaigns."