Peregrine falcon nest spotted on Cambridge University Library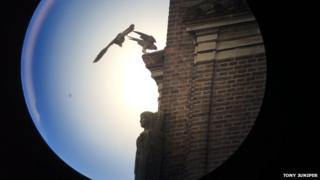 A pair of peregrine falcons has chosen to nest on a ledge on one of Cambridge University's busiest buildings.
Staff at the library on West Road in the city confirmed the birds had built a nest on a ledge on the sixth floor.
The birds had been seen circling the area for several days, and an environmentalist believes he managed to photograph them mating.
It is not yet known whether the pair have laid any eggs as the nest cannot be accessed or disturbed.
Peregrine falcons became almost extinct in the 1960s after their existence was threatened by pesticides.
However, they were given protected species status in 1981 and the Royal Society for the Protection of Birds (RSPB) estimates there are now 1,402 breeding pairs in the UK.
Environmentalist Tony Juniper, who photographed the birds on the University Library tower, said he was "completely blown away" by the sight.
He photographed the pair mating by holding his mobile phone up to a telescope.
"As far as I know, this is a first for Cambridge," Mr Juniper said.
"I've seen peregrine falcons around the city for a few months now.
"I was sitting in the gardens of Emmanuel College a few weeks back and suddenly all the ducks panicked and jumped back into the pond, and a moment later a peregrine falcon flew across the lawn.
"Then I saw one carrying a pigeon along Chesterton Road a week later," he added.
Earlier this week he spotted them at the library.
"I got this incredibly lucky photograph of two peregrine falcons mating in the middle of Cambridge," Mr Juniper said.
"Obviously that gives us every indication that they're about to lay eggs and to breed there which would just be incredible."
A number of peregrine falcon breeding sites are well-publicised including nests on Norwich Cathedral and Nottingham Trent University.
Both have webcams monitoring their progress.
However, the RSPB said it was keeping tight-lipped about others to give the predatory birds "peace and quiet" to breed and to protect them from being killed and having their eggs stolen.