Paralympian Sean Rose aborts Iceland glacier trip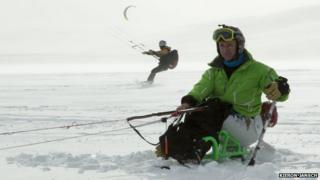 A team of four men who were trying to snow-kite 185 miles (300km) across a glacier in Iceland had to abort their challenge due to illness.
Paralympian skier Sean Rose, of St Neots, Cambridgeshire, got a bladder infection and a temperature three days into the journey across Vatnajökull.
They were rescued by jeeps and Mr Rose, 42, was treated with antibiotics.
The team are planning another training trip in May in preparation for a second attempt to cross Vatnajökull.
Mr Rose, originally from Middlesbrough, was paralysed in a skiing accident in 2000 and competed in the Winter Paralympics at Turin 2006 and Vancouver 2010.
'Zero visibility'
Kieron Jansch, 42, and Max Smith, 49, both from London, and Mike Dann, 35, from Huddersfield made up the rest of the "4 People 6 Legs" team.
The expedition was abandoned about 30 miles (50km) into the trip on 11 April.
Mr Jansch said: "We were working well as a team after two days of difficult highland terrain to reach the glacier, but it was unsafe to try and manage Sean's illness on the ice after the third day, so we called the emergency services.
"Helicopters could not have landed in zero visibility - skidoos and normal jeeps could not reach us - but just when we were thinking we would have to camp for another night, we got a call that two 'super jeeps' were four miles (6km) away.
"Sean couldn't help but blame himself, but no-one else was blaming him and we are all proud of what we achieved."
The team estimated they would have completed the challenge in another two or three days, but they have not set a date yet for the second attempt.