Stag gore victim Kate Stone able to eat after four months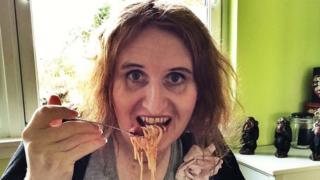 A woman whose throat was gored by a stag in the Highlands has spoken of the "simple joy" of eating solid food for the first time in almost four months.
Dr Kate Stone, 44, from Cambridge, was left with "life-threatening" injuries after being struck by the animal near Fort William on 30 December.
After three operations, tubes in her nose and throat have now been removed.
"This staggering journey is now almost over and I've finally eaten beans which I've craved for months," she said.
Dr Stone, a scientist, was on holiday with friends when the group startled a stag that wandered into a garden in Lochailort.
In its panic, the stag charged and hit Dr Stone, leaving her throat impaled by one of its antlers.
'Learning to eat'
Her trachea and oesophagus were both pierced. The antlers damaged her vocal cords and fractured her neck.
Dr Stone was put into an induced coma and underwent two operations at Southern General Hospital in Glasgow, followed by a third operation last month.
Despite initial complications, doctors eventually removed the naso-gastric tube through which she had been fed, and Dr Stone was able to eat food again.
"I had two bowls of tomato soup, cauliflower curry and a mousse," she said.
"It took me about two hours to consume this, but I've waited three-and-a-half months for it to arrive and it was simply joyous."
After that length of time, Dr Stone said she had to "learn how to eat again".
"I was put on soft food last week but now I'm eating what I want and lots of it," she said.
"Swallowing is still really hard sometimes, but it's like riding a bicycle - you're a bit wobbly at first - but it's all coming back to me."
Dr Stone will continue to attend outpatient appointments at hospital in Glasgow, but said she was looking forward to returning home to Cambridge for a few days to check on the high-tech print technology company she founded in the city.
"I feel like I've climbed a massive mountain," she said.
"So many times I thought I was near the top and I wasn't. Often I felt the end would never come and there were challenges along the way I can't believe I overcame.
"Well, I never gave up, and I'm at the summit. There is still as much of a journey home, but it's an easy walk downhill."