Ducklings rescued in Peterborough drain drama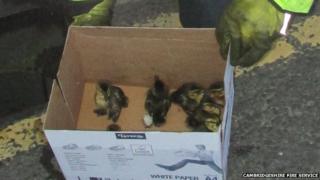 Ten ducklings had to be rescued after becoming trapped in a drain on a busy Peterborough road.
Firefighters and police officers were involved in the rescue on Rivergate, close to the police station, shortly after 20:00 BST on Sunday.
The mucky ducklings were scooped out of the water using a jug and put in a box.
A Cambridgeshire Fire Service spokesman said all the birds were fine and were released "to a safe location in the wild".