Stilton cheese rolling attracts visitors back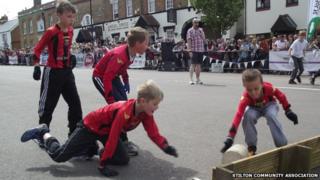 An "ancient annual tradition" invented about 50 years ago to revitalise local businesses attracted about 2,000 people to a Cambridgeshire village.
The cheese-rolling competition is a May Day Bank Holiday Monday tradition held in Stilton - the village which gave the cheese its name.
Teams roll wooden blocks resembling the cheese through the streets.
The event was originally dreamt up to encourage visitors after the village was by-passed by the A1 in 1959.
The village, on the old Great North Road between Huntingdon and Peterborough, got rid of its traffic jams when the bypass was built, but the High Street and North Street lost passing trade as a result.
A few years later cheese rolling was invented by two pub landlords who told villagers it was "an ancient tradition" in order to encourage them and others to take part.
This year people flocked to the village from far and wide to see teams of four compete for fun.
Blocks of wood have to be used because an actual cheese round would not survive being rolled along the main road for about 200 yards (180m).
Richard Landy, local historian, said: "It's been a cracking day out and the whole event was so loud my head's still pounding.
"It's certainly gone from being a quirky idea to a massive event for the village."
Olive Main, chairman of the Stilton Community Association, said: "It started as a small village event and we now get coverage from as far away as Australia.
"After the A1 by-passed us, traffic through the village stopped and the cheese rolling has certainly helped resurrect passing trade for at least one day a year."
This year's men's and women's events were won by teams from the Angel Spice restaurant.