Cambridgeshire Police 'advised man to delete UKIP tweet'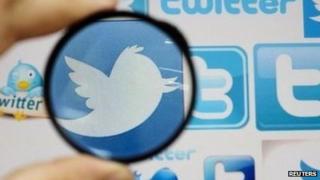 A blogger who tweeted "fact checks" about UKIP said he was advised to delete the tweet after being visited at home by two police officers.
Green Party member Michael Abberton claimed to be examining the truth behind UKIP policies in the tweet.
On Saturday he was visited by the police officers following a complaint it breached Electoral Commission rules.
Cambridgeshire Police confirmed the visit, but denied Mr Abberton was told to delete the tweet.
Officers said no further action would be taken against Mr Abberton.
UKIP national nominating officer Pete Reeve confirmed he had contacted the police and the Electoral Commission about the tweet.
'Professional and polite'
He claimed it was "malicious material that falsely impersonated the party" because it "masqueraded as a UKIP leaflet" and believed it breached the commission's rules for electoral communications.
In a blog, Mr Abberton wrote: "[The officers] asked me to take it down, but I said I couldn't do that as it had already been retweeted and copied many times and I no longer had any control of it."
He added the police officers were "extremely professional and polite... but it wasn't until after they left that I questioned why they had visited me in the first place".
A Cambridgeshire Police spokesman said they were called with a complaint about "a message on social media" at about 12:40 BST on Friday.
"Inquiries were made as to whether any offences had been committed under the Representation of the People Act but none were revealed and no further action was taken."