Wisbech's homeless night shelter wins reprieve for a year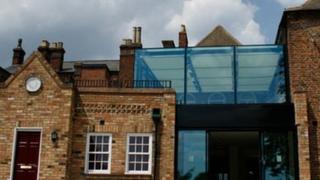 A homeless people's night hostel which was facing closure has received enough money in grants and donations to stay open until next March.
Ferry Project is the only night shelter in Wisbech, Cambridgeshire, and helps 150 rough sleepers a year.
Its future looked uncertain after a previous government grant came to an end in March.
The charity raised £51,000 in private and charitable donations and also received a government grant of £44,000.
Housing minister Kris Hopkins said "the exceptional nature of this case" merited the one-off grant.
Locals donated £15,000 and funds were also received from Fenland District Council and the Elizabeth Wright charity.
Keith Smith, director of Ferry Project, said: "Without the support of the local community, over 150 people a year would be sleeping rough in the Wisbech area.
"I have never been more proud to live here."
The shelter has set up a social enterprise printing business in a bid to become self-supporting.