WW1 National Centre appeal after failed Dry Drayton planning bid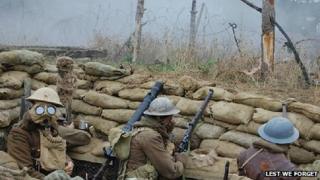 An appeal is to be lodged after a £2m National Centre for the Great War was refused planning permission in Cambridgeshire.
The centre will feature 1km (0.6m) of trenches and replica vehicles on land at Dry Drayton but is also linked to the expansion of a garden centre.
South Cambridgeshire District Council refused the application by six votes to five, with one abstention.
Applicant Tony Cooke said he was "not giving up" and hoped to quell concerns.
The centre proposes to have a mock-up of a World War One trench system, with Allied and Axis sides and a No Man's Land, along with tunnels, a railway, training camp and replica tanks and vehicles.
Green belt
Mr Cooke said it would be an important educational resource for local children given that the Imperial War Museum in London was shut for refurbishment until 19 July.
Officers had recommended rejecting the application primarily because the development would be on green belt land.
But Mr Cooke said that while he understood worries about the impact on the countryside, he believed the WW1 site and the garden centre both fell under the category of outdoor recreation, which is permitted by law.
He added that the area around the site was also largely developed, with the A14 expansion also due to run nearby.
Mr Cooke said if the appeal was not successful he would consider alternative sites, including some in Hertfordshire.