Amina Agboola case: Toddler 'kicked six feet across room'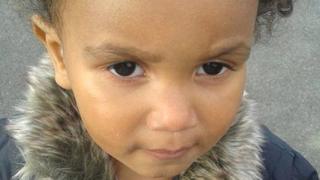 A man accused of murdering a two-year-old girl confessed to a prisoner he kicked her so hard she landed six feet across the room, a jury has heard.
Amina Agboola, of Scott Drive, Peterborough, died of a ruptured liver after the attack by her mother's boyfriend Dean Harris last November.
Cambridge Crown Court heard Harris, 19, told fellow inmate Leigh Foster about the attack while on remand.
The defendant has admitted manslaughter but denies murder.
Amina's mother Sarah Racqueman, 29, denies causing or allowing her death.
'Truly sorry'
The trial heard Harris asked Foster while at Peterborough Prison to write a statement for him explaining what had happened.
The text, which was read to the jury, said the accused kicked Amina in the stomach after she soiled herself at home.
The statement said: "I realised what I had done and went to pick her up. She was crying at this point and I could tell it had winded her.
"I only wish I could take all this back but I can't... I am truly sorry for what I have done."
Foster, who is being held at Peterborough prison for robbery and helps bereaved inmates, told the court at one point he had to stop writing as "tears were running down my face".
When asked by Zoe Johnson, for the prosecution, who initiated the statement, Foster replied "Dean".
'Best friend'
Earlier jurors were read transcripts of police interviews with Harris.
When asked by officers about his relationship with Amina, Harris replied that he loved her, that he classed himself as her "best friend... like a stepdad".
Amina died from a ruptured liver and "blunt force trauma" to her abdomen.
Harris accepts he kicked Amina in the stomach, but says he did not intend to cause serious harm.
The trial continues.