Waterbeach lightning strike haystack to 'burn for several days'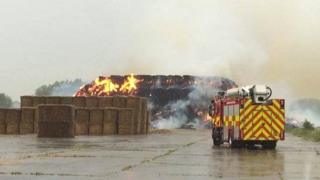 A haystack fire caused by a lightning strike is expected to burn for several days, Cambridgeshire Fire Service said.
About 25,000 bales went up in flames during a storm at about 07:00 BST on Saturday on open ground at the former barracks in Denny End Road, Waterbeach.
Within two hours, 90% of the stack was alight and at one point crews were forced to pull back as falling bales presented additional "hazards".
Crews left at about 14:15 BST but continue to monitor the burning stack.
A spokesman said local farmers tried to salvage some of the straw that was not on fire, but were forced to stop as "bales kept collapsing and it became too dangerous".
"Combined Fire Control received numerous telephone calls to this incident when it first started, and throughout the following 48 hours, as billowing smoke could be seen from a distance away," he added.
"We are monitoring the fire about every 10 hours but we anticipate it will continue to burn for a few days more."