Cambridge University to probe 'sheep cruelty'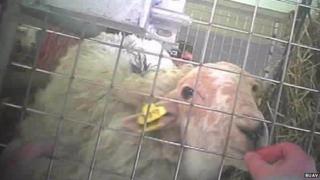 Cambridge University is investigating claims that sheep used in its brain research suffered "unnecessarily".
It follows the shooting of undercover video by the British Union for the Abolition of Vivisection (BUAV).
The campaign group said it found sheep with electrodes stuck in their brains struggling to walk and losing their sight before they died or were killed.
The university said "allegations of mistreatment" were taken "very seriously".
The BUAV said its footage included one animal suffering a broken leg and being put to sleep after an impatient staff member tried to force it into a cage for weighing.
Another sheep named Jane had to be killed because it had a faulty implant, while a third animal, Janet, suffered severe weight loss and became virtually blind. The animal was allegedly left in this state for several days, lying in its own faeces, before being euthanised.
The purpose of the experiments was to investigate the early stages of Batten's Disease and Huntington's Disease, two serious neurological conditions for which there is no cure.
Animal research is regulated by the Home Office, which applies rules intended to ensure that it is only carried out when necessary and suffering is kept to a minimum.
Dr Katy Taylor, the BUAV's head of science, said: "It is clear from our investigation that these poor animals suffered a great deal and, we believe, unnecessarily.
"There are serious questions about whether the research has any realistic prospect of advancing the search for cures for these diseases and about the way in which the Home Office has applied the harm/benefit test required under UK legislation before allowing such research to go ahead."
Cambridge University said sheep were used in the studies because they had "complex brains" similar in size to that of a large monkey, and no alternative existed.
A statement said: "The researchers have been testing a sheep model of Huntington's Disease developed by collaborators in New Zealand and Australia and studying a line of sheep that carries a natural mutation for Batten's Disease.
"Whilst every attempt is made to keep distress to a minimum, the very nature of these diseases means that the animals will show symptoms related to damage of the nervous system similar to those seen in humans.
"We take the allegations of mistreatment of animals very seriously and will take all appropriate actions necessary to investigate this matter in accordance with the university's responsibilities under our Home Office licence and our own Animal Welfare Ethical Review Committee."