'Obsessed' England fans cover Whittlesey house in flags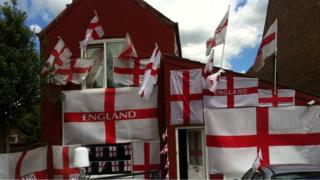 A couple have taken their football "obsession" to extremes by covering their Cambridgeshire house in England flags ahead of the World Cup 2014.
Paul Skutela of Whittlesey, first decorated the house for the 2006 World Cup and at each subsequent competition has added more flags.
His wife Kay said her role was to hold the ladder as he decorated the house but she is just as keen a fan as him.
The couple are Arsenal fans and "are always watching football", she added.
Currently, the St George's flags do not cover their bedroom and front room windows but Mrs Skutela said she "wouldn't mind at all if I couldn't see out".
The couple have lived at their current house for 14 years and are "a bit obsessed" with football which they "both love", she added.
Drivers "beep their horn" as they go past the house, according to Mrs Skutela, especially during matches.
They plan to leave the flags on their house, even if England are knocked out of the competition.