'Free spirit' stray Cottenham peahen's owner traced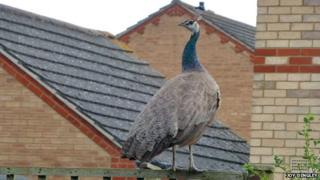 A stray peahen, described as a "free spirit", has been reunited with its owner after wandering around a Cambridgeshire village for five days.
Staff at Cottenham Village Vet received numerous calls about the bird, which no-one had been able to catch.
Vet receptionist Sue Scally said: "The peahen now seems to have made itself at home in someone's nice big garden and the bird's owner has been to visit it.
"Everyone seems to think she'll go home when she's good and ready."
The peahen was first spotted on Sunday.
Irena Rao, who lives in Woodlark Drive, spotted the peahen sitting on her fence on Sunday.
'Peacock whisperer'
"It was a bit surreal to see a bird of that stature in my garden," she said.
Her mother Joy Dingley, who photographed the peahen, said: "Having just spent 10 years living in Arizona I knew I was going to have to get to grips with a different set of birds to watch when we returned to England.
"I wasn't, however, expecting to see a Peahen in my daughter's garden."
Karen O'Brien, also a receptionist at the vets, said although the peahen had not been reported missing, after so many sightings staff put a poster on the surgery door asking if anyone had lost a bird.
She said the peahen had "left a trail all over the village" and staff at the surgery were hoping someone could lure it into a shed so it could be collected.
Having realised how difficult it was to lure a peahen anywhere, she said: "Perhaps what we need is a peacock whisperer to help us out."
After five days of wandering, the bird was spotted on Histon Road in the village and made its way to a large garden.
"They're not easy birds to catch, so both the homeowner and the bird's owner have decided to leave her where she's happy," Mrs Scally said.
"The peahen seems to have a mind of her own. She's what I'd call a free spirit.
"She has a husband back home, so I'm pretty sure at some point she'll make her way back to him," she added.