Amina Agboola case: Mother gave accused Dean Harris 'benefit of doubt'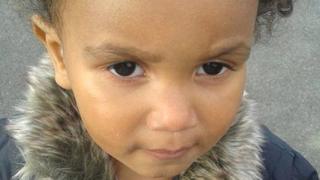 A mother whose boyfriend is accused of murdering her child said she gave him "the benefit of the doubt" despite being warned by social workers that he had a history of domestic violence.
Amina Agboola, two, of Scott Drive, Peterborough, died of a ruptured liver after being kicked by the accused on 21 November, Cambridge Crown Court heard.
Dean Harris, 19, has admitted manslaughter but denies murder.
Amina's mother Sarah Racqueman, 29, denies causing or allowing her death.
Ms Racqueman told the court a social worker had visited her and said he believed Harris was violent.
'Bleeding mouth'
"I didn't understand why he was saying that," she said.
She said Harris told her some of it was not true. He told her he "wasn't convicted" and some matters had not been taken any further.
Harris had been left alone with Amina on the day she died.
"I received a phone call... Dean rang me and then he said Amina had fell off the toilet and that she was going out of conscious, was bleeding out of her mouth," Ms Racqueman told the court.
"I said a couple of times, 'Get off the phone and ring the ambulance'. I cut him off the phone."
Paramedics who responded to a 999 call made by Harris described the child as looking "like a rag doll" when they arrived.
She died later in hospital.
Harris initially claimed Amina had fallen off the toilet, however, he later admitted be had kicked her 6ft across a room after becoming "a bit frustrated" when she repeatedly soiled herself.
'Second chances'
An inquest concluded Amina died from a ruptured liver and "blunt force trauma" to her abdomen.
Her liver had been split in two, the court was told, and there was evidence of older injuries on her body including a recently broken arm, bruises to her face and skull, and bite marks on her cheek and forearm.
The court heard Ms Racqueman had taken Amina to see a GP on one occasion after noticing a lump on the child's arm.
"I said to Dean, 'Do you know anything about this?'. He said no, he'd not seen it before," she said.
The doctor advised her to take Amina for an X-ray.
She told the court Harris said: "Don't take her. If you take her you're not going to have enough money to get some food."
"I was scared I would be blamed for hurting her arm when I didn't," she added.
Defence counsel Mark Shelley asked her if she thought she was to blame for Amina's death.
"No," she replied.
Asked why she had not ended the relationship with Harris after hearing what was said about him, she said: "I believe in second chances. I gave him the benefit of the doubt."
The trial continues.