Bassingbourn Barracks trains Libyan cadets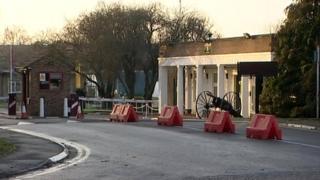 The first batch of military cadets from Libya have arrived in Cambridgeshire to begin their army training.
More than 300 armed forces personnel will be stationed at Bassingbourn Barracks, near Royston, for six months.
The UK Government announced last year it had offered to train up to 2,000 cadets to ensure Libya's transition to democracy and its security.
The trainees will only be allowed to leave the barracks on controlled visits.
In total, about 2,000 vetted Libyans will learn basic infantry skills and junior leadership skills before they re-join the armed forces back home.
The government has said "security and immigration controls will be maintained" on all trainees.
The last British soldiers trained at the barracks passed out in 2012.