Littleport bees break boiler by building hive inside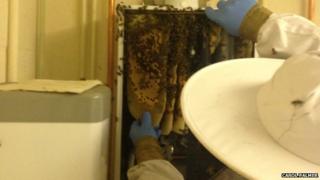 The owners of a company whose boiler broke down were "shocked" to discover thousands of bees had built a hive inside it.
The bees were found by a gas engineer called in by Colin Burbridge, co-owner of M8trix Precision Engineering, in Littleport, Cambridgeshire.
"He took off the front and we saw this black mass. They were not happy bees," said Mr Burbridge, who was stung.
Local beekeepers safely removed the hive but the boiler was unsalvageable.
The boiler, now "covered in sticky honey" was only installed in January, Mr Burbridge said.
"It was working a short while ago, then it stopped and I called British Gas," he said.
"I was just making their chap a cup of tea when he took off the front, and there they were, about 15,000 of them, I'd say."
'Left quickly'
There had been no sound of buzzing at any time from the boiler, so the discovery "totally shocked" him, Mr Burbridge said.
It is believed the bees got in through an air intake vent on the boiler.
Mr Burbridge said he was not surprised he had been stung, adding: "How would you feel if someone ripped the front off your home?
"I left quickly by one door, and the gas man left by the other."
He called his friends Stuart and Carol Palmer as he knew they kept bees and Mrs Palmer had recently completed a beekeeping course.
It took the couple several hours to safely remove the hive.
It was the first time Mrs Palmer had been asked to remove a hive or swarm, and although she said it was "daunting", it was also "hugely exciting".
With advice from other local experts she and her husband managed to save most of the bees, she said.
Although the bees have now been re-homed, Mr Burbridge has "a honey-covered sticky boiler".
He said: "Insect infestation isn't covered by the insurance, so we are going to have to get a new one.
"I did get some honeycomb, though."