Elouise Keeling Asthma Trust started after Cambridgeshire teen's death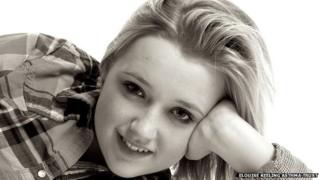 A couple whose daughter died after a severe asthma attack have started a charity to raise awareness of the dangers of the condition.
Elouise Keeling, 14, collapsed with breathing problems during an air cadets' sports day at RAF Brampton in Cambridgeshire, on 25 June last year.
The Elouise Keeling Asthma Trust will be publicly launched on 28 June.
Elouise's mother Karen said she hoped to fund training for volunteers and others working with asthmatic children.
Ellie, as she was known, had asthma since she was 18 months old, but her mother said the condition had worsened in her last year of life.
On the day of her death, she had telephoned her mother saying she was having an attack during the cadets' event.
'Unavoidable death'
She died at the scene, watched by Mrs Keeling.
An inquest heard an ambulance was delayed after initially going to another RAF station 10 miles away by mistake.
The coroner, however, ruled her death "could not have been avoided by any more timely arrival".
"I've had asthma all my life, and two of my other children have it, but you never believe this will happen and people are simply not aware of how serious the condition can be," said Mrs Keeling, who set up the trust with her husband Paul.
"Ideally I hope we can improve training for people who supervise asthmatic children, as first aid courses don't cover this. That was very apparent after what happened to Ellie.
"I've been discussing the best way we can do this with Asthma UK," Mrs Keeling said.
"Their lead clinician nurse has also told me that areas with specialist asthma nurses in hospitals have a much lower re-admission rate, so this is something I'm discussing with a paediatrician at Hinchingbrooke Hospital."
Setting up the charity with three other trustees had helped her "overcome the feelings of helplessness" after her daughter's death, she said.
"Our lives are shattered by Ellie's death and nothing will ever be as bright again without her.
"But, if what we're doing can help stop unnecessary suffering of other children with asthma, and if it saves one life, then we will have achieved our aim."