Godmanchester festival 'Jesus' scarecrow removed after complaints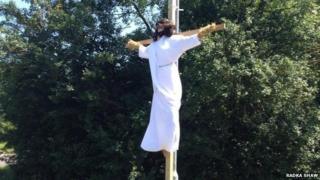 A "Jesus on the cross" scarecrow hung on a lamppost for a Cambridgeshire festival was removed amid a flurry of complaints online.
Radka Shaw and her children made the figure for Godmanchester's musicals-themed scarecrow festival to represent Jesus Christ Superstar.
Comments on the town's Facebook page ranged from "offensive" to "it's only a scarecrow, calm down".
Mrs Shaw said she had removed it but would "resurrect" it elsewhere.
More than 200 people commented after Mrs Shaw put the scarecrow on a lamppost on Stokes Drive near the town's cemetery and posted photographs of it online on Sunday.
She said she chose the location as her own home was not easily accessible and the scarecrow was to be part of a festival trail.
Seen from trampoline
One person wrote: "I don't think it is the right place and occasion to put the figure of Jesus up like that."
But there was plenty of support for the scarecrow, including one resident who commented: "I was impressed when I pulled into Stokes Drive - notice not many other people down Stokes Drive have even bothered to do one... It's only a scarecrow!!"
However, another said although her children did not particularly want to see the scarecrow, "unfortunately every time they use their trampoline they can".
Mrs Shaw informed people on the website she had removed it but added: "He will resurrect somewhere else."
'Christian family'
In a statement, she said: "I made the scarecrow with the intention of joining in with the community spirit.
"There was never any intention to upset or offend anyone. I am still at a loss to understand all the commotion and discussion about it."
As a Christian family, she said the musical Jesus Christ Superstar "was an obvious choice".
Festival organiser Mary Stokes confirmed the committee had asked Mrs Shaw to move her scarecrow.
"It had been put on a street light and highways departments do not allow anything to be hung from them."
Mrs Shaw said: "We have obliged, much to the children's disappointment.
"However, Jesus will be reinstated where we live so that villagers will still have the opportunity to view him, as long as they pass by car."