Tour de France road closures force Cambridge fire engines to relocate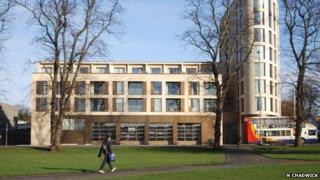 Fire engines are to be moved out of the station in central Cambridge to avoid becoming trapped by road closures during the Tour de France.
The third stage of the race starts on Parker's Piece in the city, directly opposite Parkside station, on 7 July.
The station will close for the day and its three appliances "strategically relocated", a Cambridgeshire Fire Service spokeswoman said.
Emergency vehicle access points will be set up along the closed routes.
Additional crews are also being drafted in from Hertfordshire and Essex "to provide increased cover", the spokeswoman added.
'Additional challenge'
Group Commander Alan Brown, said: "We will have an increased response capability on Monday when Le Tour comes to Cambridge.
"As well as our normal Cambridge-based appliances being available, along with on-call crews in nearby village fire stations, we will have strategically-placed fire officers in the city who could attend should an automatic fire alarm sound.
"However, if this happens between 8am and 3pm, businesses will face an additional level of challenge before a fire engine is sent, therefore it is important premises have suitably trained staff to manage automatic fire alarms."