Children's doctor at hospital charged with sex abuse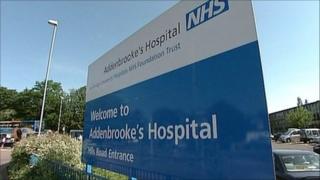 A children's doctor who worked at a Cambridge hospital has been charged with eight sexual offences against boys aged between 11 and 15.
Myles Bradbury, 41, of Herringswell, Suffolk, who worked as a paediatric haematologist at Addenbrooke's Hospital, is alleged to have carried out the offences between 2011 and 2013.
It is not known whether the alleged abuse took place at the hospital.
Dr Bradbury will appear before magistrates in Cambridge on Friday.
He is charged with four counts of sexual assault and four counts of engaging in, or inciting a boy to engage in, sexual activity.
In addition he faces two charges of making indecent images of a child and one count of voyeurism.
A spokesman for Cambridge University Hospitals NHS Trust, which runs Addenbrooke's Hospital, said the doctor no longer worked there, but would not comment further.
A helpline for "parents, patients or former patients affected by the Dr Bradbury case" has been set up, a statement on the trust's website said.