Stilton campaigners meet 'big cheeses' in name row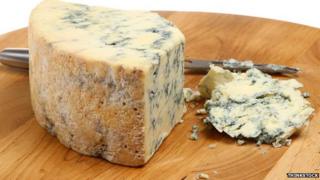 Campaigners who want blue cheese made in the Cambridgeshire village of Stilton to be officially called Stilton are taking their fight to Westminster.
Resident Richard Landy is seeking to overturn a Defra decision refusing to recognise the cheese as Stilton.
Under EU law, Stilton can only be produced in Leicestershire, Derbyshire and Nottinghamshire, where it is thought the cheese originated.
Mr Landy said he was meeting with "big cheeses" including the food minister.
In 1996, the Stilton Cheese Makers' Association (SCMA) achieved Protected Designation of Origin (PDO) status for blue Stilton from the European Commission, giving it protection from imitation.
However, Mr Landy, a local historian, claimed documents from the 18th Century could prove the cheese originated in the Cambridgeshire village.
'Petty' decision
The Bell Inn in the village already makes a blue-veined cheese calls it Bells Blue instead of Stilton due to the restrictions.
The Original Cheese Company, in Stilton, had sought to have the EU ruling amended to include the village, however, its application was rejected by the Department for Environment, Food and Rural Affairs (Defra) in October.
A Defra spokesman said: "As The Original Cheese Company is not producing Stilton cheese, its application to change the product specification does not meet EU eligibility rules."
Mr Landy described the decision as "petty", and supported by the Conservative MP for North West Cambridgeshire, Shailesh Vara, is meeting with George Eustice, Minister for Farming, Food and the Marine Environment at Defra, later.
"There will be some big cheeses at the meeting," Mr Landy said.
"We just want the right to produce the cheese in Stilton. It's the only protected food name product in the whole of Europe that can't be produced in the place it's named after."
Mr Vara said: "I believe that the historic village of Stilton should be able to manufacture the world famous cheese of its namesake in the village itself.
"I hope that the meeting will allow us to progress the matter which will have huge benefits for the village of Stilton and the surrounding areas, both in terms of jobs and tourism."