Lord Kitchener WW1 poster created in Cambridgeshire maize maze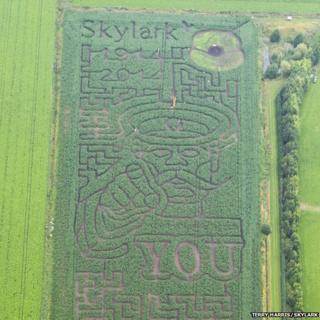 A large maze in the shape of the Lord Kitchener "Your Country Needs You" World War One recruitment poster has been created in Cambridgeshire.
The image has been formed in a 12-acre (4.8 hectares) maize field at Skylark Garden Centre in Wimblington.
It was designed as part of the centre's World War One centenary commemorations.
The maze was opened by Lady Emma Kitchener, the great, great niece of Field Marshal Horatio Kitchener, made Secretary of State for War in 1914.
Lady Kitchener said: "My great, great uncle's image has been used many times to commemorate the First World War, but seldom, if ever, in such an imaginative and all-encompassing way."
'Simple but arduous'
Alfred Leete's original depiction of Lord Kitchener pointing out from the poster "lent itself perfectly to being cut out in a field of maize", Edward Gowler from Skylark Garden Centre said.
Almost one million maize plants were used to create the maze featuring a 330ft (100m) head of Lord Kitchener.
"A company plotted the points on the ground using satellite navigation, so for example the system will ask for the corner of Lord Kitchener's finger, then I rotavate the paths so they won't grow, but the rest will.
"It's simple, but quite an arduous task," Mr Gowler said.
The maize will be harvested in October.
The centre has also planted 60,000 poppy seedlings in the shape of a giant 14,000 sq ft (1,300 sq m) poppy, as part of its commemorations.