Rony John 'drowned' in River Great Ouse, report concludes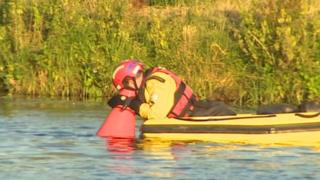 A boy who died while playing in the River Great Ouse in Cambridgeshire drowned, a report to the coroner said.
Rony John, 15, went missing in the river close to Church Lane in Hartford at about 15:30 BST on Thursday. His body was found the following morning.
He was a pupil at St Peter's School in Huntingdon and had jumped into the water while playing with friends on the first day of the school holidays.
Head teacher Val Ford said counselling was being offered to his friends.
Rony's body was recovered from the river at about 02:00 BST on Friday after a lengthy search involving police, the fire service and water rescue specialists from Spartan Rescue.
'Memorable smile'
Tributes including flowers, balloons and toys were left at the scene and some of his friends set up a page in his memory on Facebook.
Mrs Ford said Rony had only been a pupil since 2012 and had come to Huntingdon from India.
His body is to be flown back there for a family funeral, she said.
"When I heard the news I was absolutely shocked," Mrs Ford said.
"Everyone had just said goodbye [at the school] and the summer holidays were starting. They were excited, anticipating six weeks of fun, then literally within 24 hours to receive that news was totally shocking and devastating.
"The most memorable thing that stands out for me was Rony's smile, an absolutely amazing smile and I think that will stay with people for quite a long time," she added.
A wake service is taking place later this week and Rony's friends are using social media to organise an informal memorial event to take place at the river next month.
A full inquest into his death will be held on 6 November.