Fiftieth Cambridge Folk Festival attracts thousands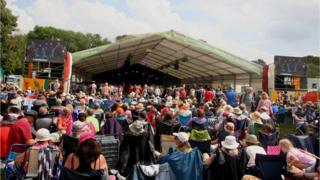 Thousands of music fans have attended the 50th Cambridge Folk Festival.
This year the three-day event included performances from Van Morrison, Richard Thompson, Sinead O'Connor and Ladysmith Black Mambazo.
Katy Spicer, chief executive of the English Folk Song and Dance Society, praised the festival for reaching its the 50th birthday.
She said the "mix of artists at the festival has been really positive for folk music as a whole".
Music journalist and author Colin Irwin, who has been to more than 30 festivals since the 1970s, said: "I always enjoy it. There is always something which appeals to me.
"You can trust festival director Eddie Barcan, and before him Ken Woollard. Eddie is always willing to take a risk and get artists who have never played here before.
"He makes a point of looking out for new artists and goes out around the country looking for them."
Singer-songwriter Zoe Bestel, who played the festival for the first time at the club tent, said: "I'm really enjoying the festival. It's really chilled."