Tansy beetle sighted in Cambridgeshire Fens for first time in 40 years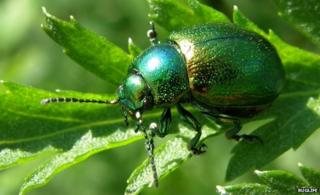 A critically endangered beetle has been spotted in Cambridgeshire for the first time in more than 40 years.
The 9mm (0.35in) iridescent tansy beetle was found during a ditch survey at the Woodwalton Fen National Nature Reserve, near Huntingdon.
Dr Peter Kirby, who found the beetle, said its first appearance in the county since 1973 was "quite the mystery".
The banks of the River Ouse in York were thought to be beetle's last remaining stronghold in the UK.
'Exciting find'
Alan Bowley, senior reserve manager at Natural England, said the discovery was "significant" as it "demonstrates the resilience of the species when given the right conditions".
"This is such an exciting find," he said.
"Woodwalton Fen is an isolated fragment of a once much larger wetland and so rare animals are always at risk of extinction, but this demonstrates how important these sites are for providing a refuge for these species to survive against the odds.
"There is only one other site in Britain where this beautiful creature is found and we will be working hard to try and ensure that it can flourish here."
The site is all that remains of a great wetland around Whittlesey Mere that was drained in 1851, leading to the loss of many species.
Dr Kirby said: "It is not uncommon for invertebrate populations to survive at extremely low levels for many years until conditions become suitable for an expansion, and that appears to be what has happened here.
"I saw the first one by accident while taking samples, the sunlight glinted off it to catch my eye. Now we know it's there we can do some research and get a picture of what's going on."
The tansy beetle (Chrysolina graminis)
The tansy beetle is currently critically endangered in the UK and across its worldwide range
It is a conservation priority species in England which means that public bodies have a duty to protect it, together with its habitat
in recent times the beetle has only been found along a 30km stretch of the River Ouse, around York, mainly eating tansy (Tanacetum vulgare), a perennial herb which has given the beetle its name
Although the tansy is widespread along the River Ouse, land use changes and the increase of invasive species such as Himalayan balsam have resulted in a decline in the plants over the past few decades
Source: Natural England