Antarctic Halley Station lost power and heat at -32C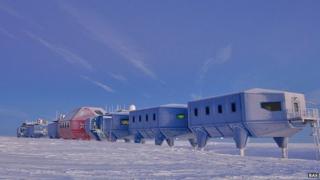 All power, including heating, to an Antarctic research station housing 13 people was lost for 19 hours, it has been revealed.
With temperatures as low as -32C (-25F), members of the Cambridge-based British Antarctic Survey (BAS) at the Halley VI Station suffered the power loss on 30 July.
All staff are currently safe and in good health, BAS said.
The cause of the power loss has not been determined.
All research at the base other than that connected to "essential weather forecasting" has been halted.
"Our urgent priority is to ensure the continued safety and well-being of the wintering team," a statement from BAS said.
"Power and some heating are back online, and some other essential services have been restored, but the staff are having to live and work in extremely difficult conditions."
Following the incident, it was "now clear the station cannot return to normal operation in the short or medium term".
The winter research at the Halley station on the Brunt Ice Shelf, includes ozone monitoring, other meteorological monitoring and data collection for international research programmes.
"Everyone at Halley and Cambridge is doing everything that can be done to ensure that the incident remains under control," the statement said.