Bronze Age tools used to mend Flag Fen roundhouse roof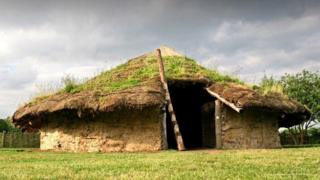 A reconstructed Bronze Age roundhouse is to be re-roofed using replica tools from the era in what organisers say is an "experimental archaeology" project.
The building was constructed 20 years ago at Flag Fen near Peterborough.
The roundhouse was built with traditional materials, but using modern tools. History enthusiasts will spend a week mending the roof using replica bronze, flint and wooden tools only.
Flag Fen is the site of a large Bronze Age causeway dating back 3,500 years.
Excavation of the causeway began in 1982 when millions of preserved timbers covering more than half a mile (0.8km) of Fenland were found.
'Fascinating experiment'
It is believed it was built to enable people to safely cross the flooded Fens to access habitable areas of dry land.
The task of re-roofing the roundhouse has been taken on by members of re-enactment group Black Knight Historical.
It was damaged by heavy rain earlier this year and has been closed to the public for several months.
Stuart Orme, from Vivacity Culture and Leisure, which runs the site, described it as "experimental archaeology" and a "difficult challenge".
"The re-enactors will have to struggle with very basic tools to recreate the roof," he said.
"It will be a tough experimental task, but fascinating for visitors and archaeologists to witness."
The roof itself consists of wooden beams covered by a mesh of woven lighter wood. On top of this is a layer of reed, similar to thatching, and a thick layer of turf on the very top.
The re-roofing is expected to take a week to complete and begins on Monday.