Clean-up under way after flash flooding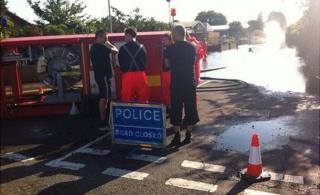 The clean-up operation is under way across Cambridgeshire, after torrential storms sparked power cuts and major disruption on the roads.
Electricity was restored by 22:40 BST on Friday to more than 1,400 homes, after about 2in (50mm) of rain fell across the county in an hour.
More than 500 people were evacuated from Tesco stores in Bar Hill and March. Both have now re-opened.
Staff wheeled shoppers to their cars in trolleys to avoid the flood waters.
In West Yorkshire, a hospice was flooded and fire crews had to pump out water from the accident and emergency department of Bradford Royal Infirmary after the water levels rose.
Structural engineers are assessing the bus station in Barnsley after torrential rain left the roof in danger of collapse.
Louth, in Lincolnshire, was also inundated with 2in (5cm) of rain in an hour, forcing the evacuation of some homes and making roads impassable.
Emergency services were also called out to Skegness and the surrounding area overnight.
A yellow alert for flooding remains in place for Louth with heavy rain predicted for Sunday.
Cambridgeshire Fire and Rescue received more than 270 flood-related calls between 12:45 BST on Friday and 08:30 BST. Firefighters were called to about 60 properties in March, Doddington and Wisbech St Mary.
Mark Steele, the manager of Tesco in March, said: "The staff and customers were fantastic...everyone could see the weather was incredibly bad.
"The staff were helping customers to their cars, taking their shoes and socks off and going across in bare feet. The older customers were taken across in the trolleys and helped to their cars."
BBC Radio Cambridgeshire reported a number of properties in March remained flooded on Saturday with firecrews pumping water from Century Way.
John Hammond, who went to the rescue centre at St Johns Church Hall in March, said: "I didn't realise how bad it was until I went outside the house and met four or five inches or water, it was everywhere."
BBC Travel also reported Nene Parade in the town remains closed on Saturday following a landslip on the banks of the River Nene.
Peter and Janet Cockram had just moved to March. He told BBC Look East: "It was torrential, we've never seen anything like it before in our lives.
"We've got sandbags out the front but that didn't help - it's come through the air vents under the bungalow and up through the floor and ruined every carpet in the place and most of the furniture," he said.
Neighbour Mark Lorraine added: "It's the first time in 44 years it's gone over the gardens, the road and the pavement so we can't see anything."