March flooding leaves 'raw sewage' in homes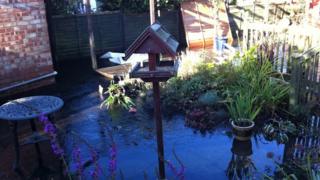 Anglian Water has been criticised for a slow response by people in Cambridgeshire who say floods have left raw sewage in their houses and gardens.
James Hill, whose mother was "devastated" by the sludge left in her home in Gold Street, March, said the company took 48 hours to arrive.
An Anglian Water tank arrived at 22:00 BST on Sunday to pump it away, he said.
The company said it had been working hard all weekend and had brought in extra staff and contractors.
A spokesman for the firm said it was investigating whether drains had backed up, releasing sewage in the area.
The town was hit by flooding on Friday afternoon when about 2in (50mm) of rain fell across the county in an hour.
Mr Hill said about 20in of water "bubbled up" in his 61-year-old mother's house.
'Wading' through sewage
"The fire service were great on Saturday, but when they came back on Sunday morning they said there was really nothing more they could do because of the height of the sewage content.
"They said they couldn't pump that into the watercourse."
The remaining water was "virtually raw sewage", he said.
---
How much water?
Between 12.45 BST on Friday and 08.30 on Saturday, Cambridgeshire's Combined Fire Control received 277 flood-related calls
The worst-hit area was the town of March, where crews pumped water continuously for 13 hours from 14:00 on Friday and a further 10 hours on Saturday
An estimated 11.5 million litres (2.5 million gallons) of water was pumped from properties in the March area
Source: Cambridgeshire Fire and Rescue Service
---
Mr Hill said he spent the weekend calling Anglian Water until a tanker turned up on Sunday night.
Another resident said: "The stench of the sewage is awful. I was wading through it up to my knees and we still can't have a bath or flush the toilet."
An Anglian Water spokesman said: "We've been working very hard all weekend.
"We have brought in extra staff and contractors to try and do everything we possibly can to help all of our customers.
"We haven't got around to everyone yet, but we will get in touch with everyone who's been in touch with us, and will help in any way we possibly can."