Bassingbourn Libyan soldiers reprimanded after unsupervised village visit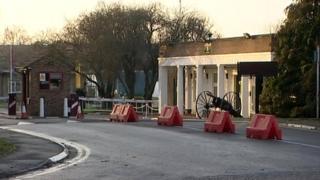 Libyan troops being trained in Cambridgeshire have been reprimanded by the Ministry of Defence after going on an unsupervised visit to a village.
More than 300 Libyan recruits arrived at Bassingbourn Barracks in June.
Residents were told they would only be allowed out supervised, however the MoD confirmed a number had been found in the village and had been warned.
Peter Robinson, the parish council chair, said villagers felt the MoD had "gone back on its word".
The troops are the first tranche of about 2,000 who are will be trained in basic infantry skills and military leadership at the camp.
'Tesco visit'
Mr Robinson said: "There were a few eyebrows raised when the soldiers were seen in the village.
"No-one has a problem with the Libyans being here, but there's a lot of consternation because the MoD specifically told us the soldiers would always be supervised."
"They probably just wanted a look around," he added.
"They'd been to Royston on a supervised visit earlier so maybe they visited Tesco and thought they'd come here for a picnic."
Mr Robinson said many of the village's 4,000 residents were upset that community facilities including ski, golf and fishing clubs located on the base had been closed to the public since the Libyans arrived.
"It's lockdown there to us, basically, but it appears to be a one-way gate," he said.
An MoD spokesman said: "A number of recruits left camp after training to visit the facilities in the local community. Training staff located them and together they returned to camp.
"All the recruits have been reminded of the standards of behaviour we expect whilst training at Bassingbourn, this includes not leaving camp without prior permission."