Man critically injured in Chittering 'gas explosion'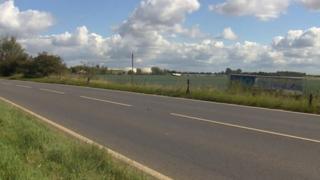 A man has been critically injured in a reported gas explosion in a Cambridgeshire village.
The injured man is believed to be an Austrian engineer, aged about 50, working for a contractor.
It happened at 08:53 BST at a site off Ely Road, Chittering, where an anaerobic digester plant is being built by Pretoria Energy Ltd.
But Steven Ripley, one of Pretoria's directors, said there had not been an explosion at the plant.
"The injured engineer was working with two colleagues when something went wrong," Mr Ripley said.
"A large tube came loose and hit him in the chest.
"It's a terrible thing and our thoughts are with him."
The injured man was taken to Addenbrooke's hospital and officials from the Health and Safety Executive are examining the scene.
Fire crews said they responded to reports of an explosion, as did ambulance staff.
Mr Ripley said Pretoria Energy had leased the Chittering site from The Produce Connection Ltd.
The contract for building the anaerobic digester plant had been given to a German company, who in turn had employed staff from an Austrian firm.