Milton village launches 'pong log' to rate smell 'intensity'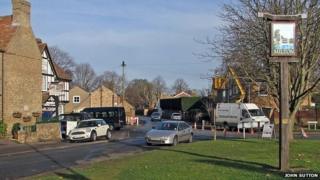 Residents of a Cambridgeshire village surrounded by a sewage plant and two recycling centres have been asked to rate the stink online.
It is hoped a concerted effort to document the Milton "pong", as it has been named by villagers, will help the authorities take action.
A village working group wants people to use an online "pong log" to rate the "intensity" of the smell.
The Environment Agency said it encouraged people to report incidents.
Milton, just north of Cambridge, is close to a water treatment works, a household waste recycling plant and a landfill site.
'Smell descriptor'
Many of its 4,500 residents have experienced unwelcome odours from one or all three over the years.
Milton Parish Council's website even had a section dedicated to what it called "the sewage works pong".
A resident recently set up a calendar on the village website encouraging people to document incidents.
However, after more than 100 people contributed, she was told the Environment Agency could not act on historical reports.
Leaflets have now been distributed encouraging people to contact the agency's hotline within 48 hours of the occurrence to enable it to act.
The Milton Air Quality Residential Observation Log, or "pong log" has also been set up as a "back-up resource".
It asks people to note times and dates and then rate the intensity and the offensiveness of the odour.
There are also options for any health impact, including breathing difficulties and a "smell descriptor" option.
An Environment Agency spokesman said: "We always encourage people to call our emergency hotline (0800 80 70 60) to report environmental concerns such as smells, pollutions and illegal waste sites.
"It helps us to target our work and to compile a useful log, which could be used as evidence."