Peterborough Chihuahua dog found after Facebook plea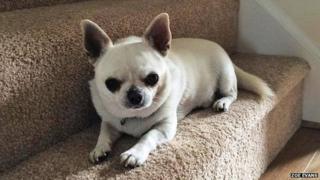 Publicity on social media about a Chihuahua dog stolen in Peterborough made it "too hot to handle", the woman who led the hunt said.
Rocky was taken on 9 August in Bretton, but was found "abandoned" on Tuesday.
Coral Monaghan began the Facebook hunt after pleas for her own stolen Chihuahua Lola resulted in its return.
Her "Find Lola" Facebook page was then used to ask its 5,000 followers to help find Rocky. She believes its popularity made the sale of the dog impossible.
Cambridgeshire Police confirmed two Chihuahuas had been reported as missing, believed stolen, within hours of each other in the Bretton area of the city.
'Perseverance and support'
When Miss Monaghan put pleas on social media for the return of her 1lb 5oz (0.7kg) teacup Chihuahua Lola, about 20,000 people shared the story and thousands joined a page set up on Facebook.
Lola became "the hot topic... trending on Twitter", said Miss Monaghan, making her pet so recognisable she believed it would be difficult for the thief to sell the valuable Chihuahua.
Lola was returned "no questions asked", she said.
She then turned her attention to the search for Rocky, leading to pleas about the disappearance being shared by thousands of people.
The dog was found in the centre of Peterborough a few miles from where it was taken.
"Rocky's owner thinks support on social media really helped get him back," Miss Monaghan said.
"She told me 'the perseverance and support on Facebook brought him home - I'm sure he became too hot to handle and was abandoned'."