Jellyfish end swimmer's North Channel record hopes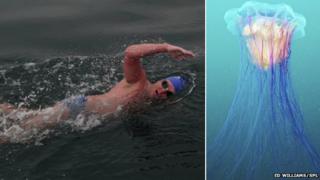 A marathon swimmer's hopes of setting a new record were dashed when he was stung "hundreds of times by ferocious red beast jellyfish".
Ed Williams, 27, from Cambridge, was swimming across the North Channel, from Ireland to Scotland, on Wednesday.
He said a "severe life-threatening reaction" including vomiting and breathing problems forced him to stop.
Mr Williams said the pain from the stings lasted 24 hours. He plans to attempt the challenge again next year.
The Irish Long Distance Swimming Association said only 23 people have completed the 18.6 nautical mile course under its regulations, with the fastest time recorded at 9 hours and 35 minutes in 2013.
Mr Williams, who owns a swimming academy, said he had been in the water for eight hours when he was forced to quit due to the number of jellyfish stings.
"It wasn't very pleasant," he said.
The jellyfish were up to 6ft (2m) long, he said, and began stinging him from the start of the swim.
"I carried on like that for eight hours and was set to break the world record when I realised that I was actually becoming very ill," Mr Williams said.
"I'd been stung in the mouth, I was vomiting and starting to have respiratory problems.
"That's when you know your reaction is becoming life-threatening and myself and the team decided it was time to stop."